Opinion split over Beckham omission
But you are prepared to give Pearce the benefit of the doubt
Opinion is split on Stuart Pearce's decision not to include David Beckham in the Great Britain Olympic football team. And as our poll shows MSN readers are also divided.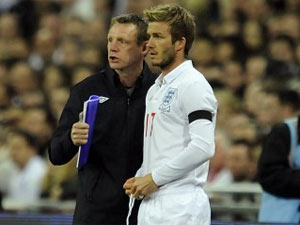 We asked "Should Beckham have been picked for Team GB?" and over 10,000 of you voted, with 53% saying Beckham should be in the Olympics and 47% saying he should not.
Perhaps not surprisingly Pearce's decision to leave out Beckham has been met by fury in the media. Many of whom claim it is unfair to leave out a player who had done so much to bring the Games to Britain in the first place. But this is a British squad assembled to try and win a tournament, not a thank you and farewell for an England football hero.
Pearce also comes under-fire for including Beckham in his short-list of possible players for Team GB. If he had no intention of taking Beckham to the Olympics, why string him along?
But with such a close call on the vote, it would seem as though you are prepared to give Pearce the benefit of the doubt. The comments you left also indicate that you are willing to back Pearce as Team GB coach.
Danny Dibble Wall said: "Becks is well past it, great guy but his best years in football are well behind him!"
Dave Johnson agreed saying: "He is 37-years-old, he went play in a league that is worse than the Scottish league and he is passed it. Move on people his career at representing his country finish[ed] a long time ago."
The Daily Mail's chief sports writer, Martin Samuel, points out that Beckham had earlier said: "I don't want to be picked to sell shirts, or as a stadium filler. I want to be in because of what I can bring to the team." Samuel goes on to question "how could he possibly be one of the three best over-age players from the British Isles, as a 37-year-old in an inferior league?"
Piers Morgan agreed, tweeting: "Oh no! Pearce chose the GB team on merit, not on celebrity status. How shameful!"
One of the arguments in favour of including Beckham was his experience and in particular his experience in tournament football and how that would have helped to develop the young players in the squad. The three over-age players that Pearce has included, Ryan Giggs, Craig Bellamy and Micah Richards, have never featured in a major international football tournament.
Beckham's first football coach agrees, he told MSN: "Surely a man with David's experience in the game and his ability to bring out the best in the younger player has got to be selected for the squad."
This issue has split football supporters down the middle and now the question remains, will we be saying "if only Beckham had played" or "good on you Pearce"?