London 2012 Day 6
Find out how Team GB did on the sixth day of the London 2012 Games.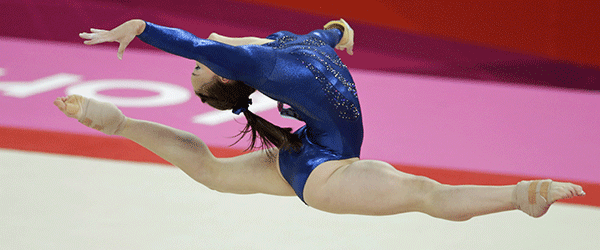 Team GB's Day 6 results
Basketball
Britain's men's basketball team only just missed out on a win against Spain with a final score of 78-79 in their group preliminary match.
Hockey
Britain's women's hockey team beat Belgium in their third win in a row. The final score was 3-0.
Swimming
In the 200m backstroke semi-finals Elizabeth Simmonds qualified seventh through to the final. Stephanie Proud finished ninth, just missing out on a place in the final event. In a very fast 200m individual medley final Britain's James Goddard finished seventh. Michael Phelps took yet another gold from the event.  Fran Halsall came in sixth in an extremely tight women's 100m freestyle final.
Water Polo
The British men's water polo team were defeated by the US team in this group round match. Britain lost 13-7.
Tennis
On Court 1 Andy Murray and Laura Robson joined forces in the mixed doubles to beat the Czech Republic duo Hradecka and Stepanek. The British pair won two sets to one.
Gymnastics
In the women's individual gymnastic all round event GB gymnasts Hannah Whelan and Rebecca Tunney gave strong performances. Tunney finished in 13th, while Whelan finished 24th.
Track cycling
Women's team sprint disqualified - In the women's team sprint, Team GB set a new world record of 32.536, but this was quickly broken by China who claimed first place in the qualifiers in a time of 32.447, pushing Team GB into second. In the next round, an issue involving the change over between Jess Varnish and Victoria Pendleton in their race against Ukraine saw them relegated from their second position and they won't be competing in the final.
Men's team sprint - The British team took yet another gold medal today in a men's sprint final against France. For Chris Hoy it is his fifth gold medal - equalling the record held by sir Steve Redgrave.
Men's team pursuit - In a huge show of strength to their competition the British mens pursuit team recorded a new world record time in their qualifying round.  
Judo
Gemma Gibbons has made Olympic history by winning a silver medal in the -78kg category, Team GB's first judo medal since the Sydney Olympics. Team GB's James Austin lost his match against Japan's Anai Takamasa in the men's -100kg category.
Rowing
The men's four won their semi-final ahead of Australia, taking them through to the final on Saturday. Katherine Copeland and Sophie Hosking won their semi-final with a performance that gives Team GB hope for another medal in the final. Zac Purchase and Mark Hunter also won their men's lightweight double sculls semi-final. Bill Lucas and Sam Townsend made a promising start in the men's double sculls, but couldn't hold on in a strong field, finishing fifth. There was medal success for Team GB's men's lightweight four, who clinched silver in a nail-bitingly close race. However the women's eight couldn't manage a podium position.
Swimming
The men's 50m freestyle heats saw Adam Brown come in 7th. In the women's 800m freestyle, Ellie Faulkner didn't manage to qualify for the final tomorrow with a sixth place in her heat, but there was success for Rebecca Adlington, who absolutely dominated her heat with a time of 8:21.78. Micahel Rock and Anthony James competed in the 100m butterfly heats, finishing 7th and 8th respectively. Elizabeth Simmonds and Stephanie Proud both qualified for this evening's semi-finals of the 200m backstroke.
Fencing
In the women's team foil, Team GB lost to a strong Italian side in the quarter-finals.
Shooting
Peter Wilson leads the way into the final of the men's double trap this afternoon, but Richard Faulds could only manage 14th.
Tennis
Andy Murray breezed through his match against the Spaniard, Nicolas Almagro, winning 6-4 6-1.
Dressage
Carl Hester kicked off Team GB's dressage campaign with a fantastic score of 77.720%, which sees him sitting in top spot overnight, while Laura Bechtolscheimer produced a 76.839% test, taking her to second.
Sailing
Ben Ainslie's day started well with a win in race 7 of the finn event, followed by a third place in race 8.
Boxing
In the men's middleweight, Anthony Ogogo fought the reigning world champion, levgen Khytrov of Ukraine, and won, taking him through to the quarter-finals. Britain's Josh Taylor did not see the same success as he was defeated by Italy's Domenico Valentino in their Men's Lightweight 60kg fight.  
Beach volleyball
Zara Dampney and Shauna Mullin lost to Italian duo Greta Cicolari and Marta Menegatti, 2-0.
Canoe Slalom
Lizzie Neave finished 12th, leaving her out of the finals of the women's kayak. Team GB had brilliant success in the men's double, as Tim Baillie with Etienne Stott claimed gold, and David Florence with Richard Hounslow won silver.
Shooting
The men's double trap saw Peter Wilson win gold for Team GB with a total of 188.