Olympics 2012 Day 8: what to watch
Super Saturday has arrived - how many of the 25 available golds can Team GB claim?
The London Olympics are shaping up to be a success for Team GB as the medals continue to roll in, and with a total of 25 golds up for grabs today across the board, Super Saturday could hopefully prove to be a hit with the Brits.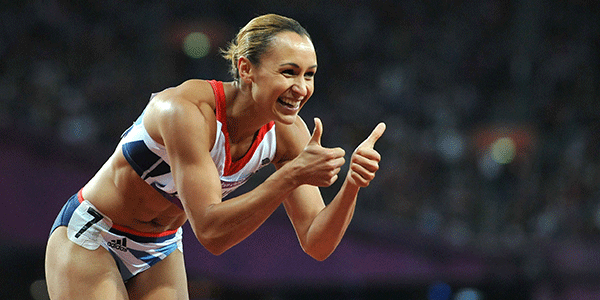 Highlights
All eyes will be on Jessica Ennis as she goes for gold in the heptathlon from 10:05. She's holding a healthy lead after day one of the event, so it looks positive.
Another gold medal could be on the cards in the velodrome from 16:35 as Team GB look to continue the dominant form they've shown so far.
In the men's 10,000m at 21:15 Mo Farah holds a good chance of winning a medal for Team GB, having finished second in this event at last year's World Championships.
Team GB's mens football take on the South Koreans in the quarter finals at the Millenium Stadium at 19:30.
Today's results
Track cycling: A new Olympic record of 9.713 seconds set by Jason Kenny in the men's sprint sees him top the time sheet and receive a bye into the final eight. Ed Clancy takes an early lead in the men's omnium, after winning the flying lap 250m time trial in an incredible 12.556 seconds. In Team GB's women's team pursuit heat in which they beat Canada, yet another new world record was set of 3:14.682. Kenny beat South Africa's Bernard Esterhuizen in his sprint heat.  The Womens pursuit team continued Team GB's domination of the velodrome as they broke their own world record to claim gold.
Handball: Team GB's men faced Tunisia in the last match of the preliminary rounds and lost 34-17.
Triathlon: Helen Jenkins came in 5th in a thrilling race in which the top four were in another league and had one of the closest ever Olympic triathlon finishes. Vicky Holland crossed the line in 26th and Lucy Hall came 33rd.
Athletics: The heats of the men's 400m saw Nigel Levine, Conrad Williams and Martyn Rooney all qualify for the semi-finals tomorrow. Then in this first round of the women's 3000m steeplechase Barbara Parker and Eilish Mccolgan both missed out on qualification for the final.  In the pole vault Holly Bleasdale qualified for then final, jumping 4.55m, but Kate Dennison missed out, clearing 4.25. The fastest men in the world took to the track for the 100m qualifiers, which saw James Dasaulu (10.13 secs), 18-year-old Adam Gemili (10.11 secs) and Dwain Chambers (10.02 secs) all go through to tomorrow's semi-finals. Dai Greene scraped through the finals of the mens 400m hurdles as a fastest loser after he finished fourth in his heat. In the womens 400m Christine Ohuruogu qualified with a seasons best of 50.22 as she came in comfortable second behind favourites Sanya Richards-Ross. Shana Cox missed out however after a tough semi.
Heptathlon: Gold is within the grasp of Jessica Ennis as she jumped 6.48m in the long jump to claim a further 1001 points. Katarina Johnson-Thompson continued to impress, jumping 6.19m, while Louise Hazel managed 5.77m. Any concerns about Ennis's javelin performance were put to rest when she threw a personal best of 47.49m to extend her lead. Johnson-Thompson went from 12th to 16th after her javelin, but Hazel threw a lifetime best of 47.38m. She sits 30th coming into the last event.
Rowing: Team GB's men's four won gold, holding off Australia to cross the line by half a length. Sophie Hosking and Katherine Copeland cruised to a gold medal in the women's lightweight double sculls, easily beating China into second. In a dramatic race involving a restart, Zac Purchase and Mark Hunter finished an extremely emotional second in the final of the lightweight double sculls for the silver medal.
Shooting: 25-year-old Charlotte Kerwood finished 16th in the women's trap on a score of 64.
Volleyball: The men faced tough opponents in Poland and were defeated 3-0.
Tennis: At Wimbledon Andy Murray and Laura Robson  are assured of a medal after they beat Germany's pair of Sabine Lisickie and Christopher Cas in the semi-finals. The German pair took the Brits the distance before Murray and Robson triumphed 10-8 in a Champion's tie-break. Incredibly this result came just hours after they beat Australia's Lleyton Hewitt and Sam Stosur in the mixed doubles quarter-final and beat them again  on another Champion's Tiebreak.
Sailing: In the men's laser Paul Goodison finished 9th in race 9 and 8th in race 10, ending his hopes of another gold medal. Bryony Shaw had a good day in the RS-X, coming 7th and 5th in the two races, while in the men's RS-X, Nick Dempsey finished 2nd in race seven and 3rd in race eight. Alison Young fell foul to a black flag disqualification in race nine of the women's laser radial, but redeemed this result with a 4th place in race ten. In the men's 470, Luke Patience and Stuart Bithell came 3rd in race five and fourth in race sixth to stand in silver medal position overall whilst in the women's 470, Hannah Mills and Saskia Clark finished fourth in race three and sixth in race four to sit in second place two points behind leaders New Zealand. In the women's elliott 6m round robin Team GB have slipped to 7th carrying five points.
Show jumping: On day one of the show jumping, Team GB had some good results as Nick Skelton and Ben Maher jumped clear, and Scott Brash picked up four faults. Peter Charles clocked up 10 faults, meaning that his score is dropped and Team GB carry four faults into tomorrow's round.
Trampolining: Katherine Driscoll came agonisingly close to qualifying for the finals of the women's trampoline, but her 9th place wasn't quite high enough, with the top eight going through.
Diving: In the 3m springboard neither Rebecca Gallantree or Hanah Starling managed to qualify for the finals, coming 18th and 13th respectively.
Swimming: Fran Halsell was narrowly edged out of the medals in the womens 50m freestyle as she came fifth missing on a medal by 0.08's of a second. Whilst David Fogg came in eighth in the mens 1500m.
Water Polo: Team GB were emphatically beaten by 3-time Olympic champions Hungary 17-6.
Football Team GB's men cruelly exited the football competition at the quarter final stage on penalties after a 1-1 wth South Korea
Hockey: Britans womens lost their first game of the Olympics as they lost 2-1 to China
Are you sure you want to delete this comment?