Olympics 2012: Day thirteen what to watch
Day thirteen is set to be a fantastic day for the women of Team GB. Charlotte Dujardin will be the first to go for gold in individual dressage followed by Nicola Adams in the women's fly boxing final. There are also medal hopes in the women's single and double kayak finals as well as in the women's 10km marathon swim. That's a chance of five female golds!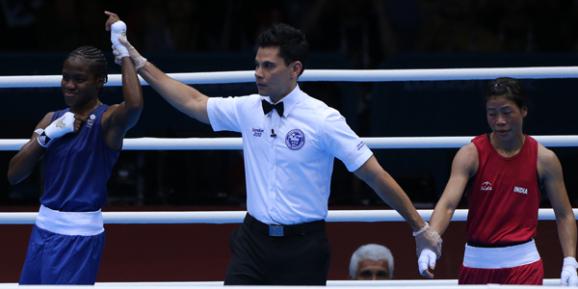 What's happened so far:
Canoe sprint
In the women's Kayak single 500m final, Rachel Cawthorn came into the final with two strong qualifying results behind her, but her 6th place left her out of the medals.
The women's Kayak double 500m saw Louise Sawers and Abigail Edmonds compete in final B, in which they finished 3rd, but unfortunately this didn't translate into a medal.
Taekwondo
Martin Stamper's bronze medal hopes were dashed by Afghanistan's Rohullah Nikpah, to whom he lost 5-3. 19-year-old Jade Jones stormed her way to a gold medal, beating China's Yuzhuo Hou 6-4 in the final. She dominated the match and her second-seed opponent never looked to be in with a chance.
Athletics
Team GB's men qualified for the final of the 4x400m relay, running a seasonal best o

f 3:00.38. Britain's Andrew Osagie finished 8th in the men's 800m final, being the first British man in 20 years to make the 800m final and achieving a new personal best of 1:43.77. Lynsey Sharp ran in heat one of the women's 800m, finishing 21st and missing out on the finals. Ok, so no Brits in the 200m final, but it was still a race to remember as Usain Bolt crossed the line first, making history as he did so, as he is now the first person ever to successfully defend the 100m and 200m double.
Women's 10km Marathon swim
Kerri-anne Payne had the eyes of the nation on her as she attempted to swim her way to a medal. Unfortunately a tough race saw her finish 4th, coming heartbreakingly close to a medal.
Hockey

Team GB's men took on the Netherlands in the semi-finals. Despite not having lost a match until now, they were defeated 9-2 by the Dutch side.
Rhythmic Gymnastics
The first two rotations of the individual all-round saw Francesca Jones finish in 21st after a day of competition dominated by the Russians. She'll be looking to improve upon this tomorrow. In the group all-around, again headed by the Russians, Team GB's ladies sit ahead of Canada in 11th after one rotation.
Wrestling
Britain's Olga Butkevych progressed through her first match in the women's 55kg freestyle, but couldn't make the quater-finals, losing in just six minutes.
Water polo
The British women's water polo team played Italy, and for a while looked like they might win their first match of the Olympics, but the Italians were too strong in the second quarter, winning 11-7.
Synchronised swimming
Russia are leading the synchronised swimming teams technical routine, with Team GB 6th ahead of Australia and Egypt.
BMX
In heat two of the men's BMX quarterfinals, British rider Liam Phillips improved on his 12th position ranking, finishing 2nd, which gives him six points and a spot in the semi-finals.
Dressage
Britain's Charlotte Dujardin and Valegro produced a breath-taking test in the grand prix freestyle, which saw them win the gold medal. Team GB's Laura Bechtolscheimer and Mistral Hojris claimed the silver, making it a total of three medals for Great Britain in dressage, having never won a single one before.
Boxing

Nicola Adams made history by winning the first ever Olympic medal in women's boxing, an event which has only been included for the first time this year. She easily beat China's Cancan Ren 16-7, knocking her to the floor at one point.
Are you sure you want to delete this comment?