Stanning and Glover claim Team GB's first gold
Helen Glover and Heather Stanning won Team GB's first gold medal with victory in the women's pair rowing.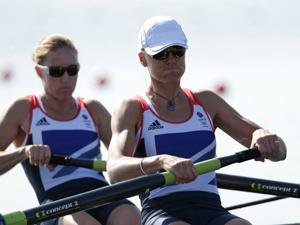 The pair completed the 2,000m Eton Dorney course clear of Australia after pulling away from a very start.
Glover, a PE teacher and former hockey player and Stannning, a captain in the Royal Artillery claimed GB's first ever women's rowing gold.
"I want to collapse but I'm so overjoyed," said Glover "I had Heather in my ear saying come on but I could see them - they were all behind us"
The men's eight will expecting to reproduce their feat within the next hour to double the goal tally.
Are you sure you want to delete this comment?