Young kids should be banned from the Olympics
London 2012 has been fantastic, but it would have been better if the kids had stayed at home argues Adrian Clarke
We want to inspire a generation but that doesn't mean we have to actually drag them kicking and screaming into the stadiums, writes Adrian Clarke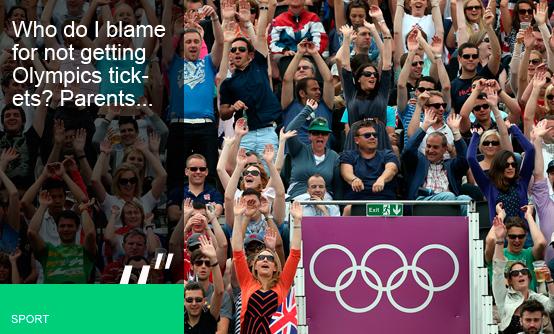 During the last seven days I've frittered away approximately 14 hours and 20 minutes of my life requesting, waiting and of course (inevitably) being rejected for seats on London 2012's soul-destroying website. What a ticket-tease. Tempting and titivating us, but eventually only delivering torment.
And do you know who I blame for a lot of the problems? Parents.
I'm a dad but I don't count. Why? It's because I've got an impressionable 11-year-old sports-mad son who is currently being blown away by the exploits of Team GB and others. When Lord Coe talks about 'inspiring a generation' he's definitely talking about kids like him.
"To pacify a series of disgruntled grizzles his parents were forced to read the lad a succession of story books."

I can be pretty sure this 'generation' we speak of doesn't include the three young toddlers with their ears covered by luminous yellow ear protectors, sat within a five yard radius of us last Wednesday at Beach Volleyball.
To them, the experience appeared to be little more than a rather strange, noisy racket. The young boy sat three seats to my right wasn't exactly hooked either. To his wandering mind the whole thing was so boring that to pacify a series of disgruntled grizzles his parents were forced to read the lad a succession of story books.
Unsurprisingly, all four children and their parents gave up the ghost, and left for home long before the final match had even begun. And it was a similar story all around Horse Guards Parade with young families vacating their seats prematurely.
What a waste.
I swear that soft play centres and crèches the land over must be deserted because from where I'm sat – which is mostly at home because I have no more tickets – thousands of the nation's precious pre-schoolers are spending their summer holidays at the Olympics, dragged along by their glory-hunting parents.
'I was there' they will proudly tell their friends, and with bragging rights secured and a badge of honour proudly pinned to their vests they'll be able boast that their kids will be able to say the same when they grow up too. Except all most of the children will be able to remember is a brief encounter with Wenlock, the mascot.
"This is the pinnacle of sport, not a
bring-your-kids-to-s​omeone-else's-work

day."


I'm sorry to break it to them but their babies and toddlers do not and will not understand, or appreciate the notion of world class sporting action. They cannot possibly be inspired. And by taking up precious seats that have could have been occupied by receptive sports-loving children of a school age, or adults that have waited their whole lives to see the Greatest Show on Earth play out on their doorstep is a travesty – and a total injustice.




The presence of small children (for as long as they last before getting bored) often spoils others' enjoyment too. Can anyone honestly say they weren't agitated when a succession of screaming young rug-rats visibly knocked Andy Murray out of his stride when he was attempting to serve out the second set of his gold medal match against Roger Federer? 




This is the pinnacle of sport, not a bring-your-kids-to-s​omeone-else's-work day.




Don't get me wrong, it's been a sensational Olympic Games. And it's hard to think of too many ways it could have gone better but if we were allowed to start over again I'd unequivocally ban under-fives from attending events.




Without knowing it the little people have spoiled it for millions of us, and it's just not right. 

 

Adrian Clarke is a television presenter and former Arsenal footballer, with lots of opinions about many different sports - and watching them.

 
DO YOU AGREE THAT YOUNG CHILDREN SHOULD BE BANNED FROM THE OLYMPICS? LET US KNOW IN THE COMMENTS SECTION BELOW OR USING #SOCIALVOICES ON TWITTER.
FOLLOW ADRIAN CLARKE ON TWITTER
Welcome to #socialvoices. This is the home of sharp writing, opinion and social debate on MSN. Jump into the comments, tweet us with the hashtag. Join in.
No tweets available. Please try again later
Who will win on Sunday?
Thanks for being one of the first people to vote. Results will be available soon. Check for results
Total Responses: 524
Not scientifically valid. Results are updated every minute.