Dempsey signing would take Liverpool backwards
The American may be a proven Premier League performer but he's not the man to spearhead Brendan Rodgers' Anfield renaissance, says Iain Spragg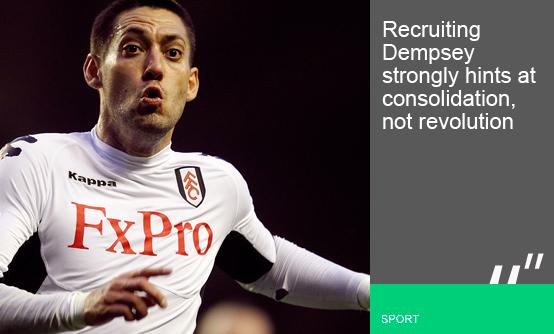 As Boris Johnson can attest, criticising Liverpool can be a risky business. Casting aspersions on the club that calls Anfield home is positively reckless but discretion is not always the better part of valour, so with head placed tentatively above the parapet, I've got to argue that the Reds' abortive attempt to sign Clint Dempsey is a backwards step.
The club's American puppet masters – the Fenway Sports Group – may have jumped the gun when they announced they'd prised the striker away from Fulham on Wednesday but there's an irresistible sense of inevitability about the story.
Liverpool are going to get their man sooner or later and it is only the fee rather than Dempsey's fate that remains unresolved.
The imminent debate about the deal will question the wisdom of recruiting Dempsey, particularly as Liverpool prepare to swallow their pride and repatriate Andy Carroll in Newcastle.
Pundits will muse about the American's age, his Premier League pedigree, his potential partnership with Luis Suarez or Fabio Borini and whether Dempsey was cloned from Dirk Kuyt's leftover DNA.
The real question though is what the deal tells us about Brendan Rodgers' state of mind as he prepares for the Herculean task of waking the club from its persistent and stubborn slumber?
Rodgers pitched up at Anfield this summer revelling in his reputation as the man who had transplanted Barcelona's mesmeric style to South Wales with Swansea, the Jose Mourinho protégé who was actually able to pull of that most elusive of tricks, playing attractive football that actually got results.
Signing Dempsey just doesn't fit into that philosophy.
The American of course will put in an honest shift, like Kuyt before him. He'll score goals, he will give Rogers flexibility in terms of selection with his ability to play wide or in midfield and he'll certainly raise the club's profile across the pond, no doubt delighting FSG's merchandising department back home in the process.
Sometimes managers buy players to buy themselves time and that is exactly what Rodgers is doing here
What he won't do is move Liverpool significantly forward.
And that speaks volumes about Rodgers' ambition. It was no surprise when the Irishman agreed to succeed Kenny Dalglish despite the sizeable shadow the Scot still casts at Anfield. They made him an offer he simply couldn't refuse but recruiting Dempsey strongly hints consolidation and not revolution is top of the new Liverpool manager's agenda.
Rodgers is simply playing safe.
The move for Borini earlier this month suggested otherwise. The young Italian, it seemed, would be the vanguard of the Rodgers' revolution. Liverpool, we assumed, would become a more expensive (and expansive) version of the Swans side he oversaw at the Liberty Stadium and Anfield would become a byword once again for attacking, fluid football.
Parachuting Dempsey into that picture doesn't work. His heroics on the banks of the Thames last season aside, his top-flight record is distinctly modest and he's built his career on endeavour rather than artistry. He won't embarrass Rodgers in the way that Carroll and Stewart Downing did for Dalglish but he's not going to light up Anfield either.
Sometimes managers buy players to buy themselves time and that is exactly what Rodgers is doing here. He's acutely conscious that failure to improve on last season's meek eighth-place finish will leave him dangling by a thread with both FSG and the supporters and the American striker is part of his insurance policy.
You can't blame Liverpool fans for dreaming, hoping that Rodgers would march into Anfield and quickly transform their fortunes but reality always bites and when the Dempsey story broke, it bit with a vengeance.
Rodgers and Liverpool must make the marquee signing that the supporters crave

Liverpool recent profligacy in the transfer market is also a factor. Rodgers of course was not the culprit but with Dempsey set to head to Merseyside for something like £7million, the Irishman is boxing clever.
Replacing Dalglish is brave but slipping into the great man's tracksuit and proceeding to write big cheques would be verging on the suicidal.
Few inside Anfield dared to berate Dalglish for the £20million he squandered on Downing but they would not be so reticent to snipe at his successor were he to spend the same kind of money on another flop.
Rodgers and Liverpool of course have the luxury of time before the transfer window closes and it would be a shock should they not add to the Anfield ranks before it closes at the end of August. They may yet make the marquee signing that the supporters crave.
But it will not disguise the message the Dempsey deal is screaming out.
Iain Spragg is a writer, author and Spurs fan. Follow him on Twitter @angryspraggy
DO YOU THINK CLINT DEMPSEY IS A GOOD OR BAD SIGNING FOR LIVERPOOL. LET US KNOW IN THE COMMENTS BELOW OR TELL IAIN ON TWITTER USING #SOCIALVOICES
Welcome to #socialvoices. This is the home of sharp writing, opinion and social debate on MSN. Jump into the comments, tweet us with the hashtag. Join in.
No tweets available. Please try again later
Who will win on Sunday?
Thanks for being one of the first people to vote. Results will be available soon. Check for results
Total Responses: 3
Not scientifically valid. Results are updated every minute.