Olympic opening ceremony review: Boyle's triumph
As the London 2012 Olympics officially opens, Adam Bienkov says director Danny Boyle created a modern British masterpiece.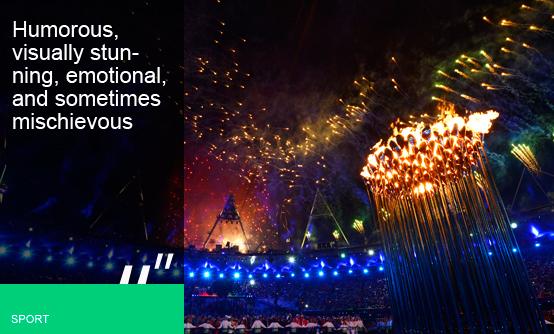 Last time London held the Olympics in 1948, the opening ceremony amounted to a simple gun salute and the release of 2,500 pigeons into Wembley Stadium.
On the day
, the guns got held up in traffic, and half the pigeons died from heat exhaustion before they could even make it out of their cages.
The
less-than-breathtaki​ng

spectacle
was described by the Radio Times as "one of the most impressive ceremonies ever televised." And so it probably was at the time.
These days it takes more than a few overheated pigeons to impress an international audience and Danny Boyle took absolutely no chances last night.
From the queen parachuting out of a helicopter with James Bond, to Mr. Bean jamming with Mike Oldfield, the ceremony was by turn, humorous, visually stunning, emotional, and sometimes mischievous with even the most hardened Olympic sceptics getting snarled in its net.
"At times the ceremony felt like an expensive broadcast by the UK tourist board"
Surprisingly short on sport, Boyle instead whipped through a long list of cultural references, from the predictable to the slightly more obscure. From Elgar to punk, from J.K. Rowling, to Michael Fish, the show played both to international stereotypes and to our own national private jokes.
The ceremony was also surprisingly political. Unashamedly leftist in outlook, there were long sequences celebrating nationalised health care, mass immigration and even trade unionism. The section on the industrial revolution was almost Keynesian in its outlook. The Prime Minister may not believe in a Plan B, but his country's Olympic opening ceremony would respectfully disagree.
At times the ceremony felt like an expensive broadcast by the UK tourist board, or a particularly enjoyable GCSE history video. But this was not the back to basics 'every child must learn Latin' Michael Gove version of British history. With dancers forming the CND symbol, Doreen Lawrence and Shami Chakrabarti carrying the Olympic flag and jumping nurses spelling out the NHS, this was a late nineties, boom era, liberal-left view of our past.
There was almost no mention of the British empire. Boyle's patriotism was purely defensive. This may have been his "Isles of Wonder" but Boyle's wonder extended only to the edge of our shores.
The politics of the ceremony inevitably got up some people's noses. As the ceremony went on, one
Tory MP
took to Twitter to denounce the increasingly "leftie multi-cultural crap" whilst another
Tory commentator
claimed that he'd "just watched a £27 million Party Political Broadcast for the Labour Party"
"A self-effacing hotchpotch of grime beats, modern art, national pride and the Arctic Monkeys."
But this is not how the ceremony will be remembered. In a long tradition of overly-long faintly mind-numbing opening ceremonies. Danny Boyle managed to inform, educate and most importantly entertain.
Self-deprecating and mischievous, Boyle managed to both celebrate the Queen, whilst blasting the Sex Pistols at her. Beijing's ceremony may have been more spectacular, but London's will have warmed many more hearts. 
Not for us the ruthless communist efficiency of the Chinese or the brazen capitalist chest-beating of the Americans. Instead Boyle's ceremony was a gloriously British shambles. A self-effacing hotchpotch of grime beats, modern art, national pride and the Arctic Monkeys. 
Mitt Romney
won't have enjoyed it very much
, but for most of us, the Isles of Wonder was an enormous triumph. After several years of recession, riots and political crisis, the Olympics have already given us something to smile about. And all before the sport itself has even started.
WHAT DID YOU MAKE OF THE OPENING CEREMONY? LEAVE YOUR THOUGHTS IN THE COMMENTS BELOW OR TELL US ON TWITTER USING #socialvoices
Welcome to #socialvoices. This is the home of sharp writing, opinion and social debate on MSN. Jump into the comments, tweet us with the hashtag. Join in.
No tweets available. Please try again later
Who do you think will replace David Moyes at Manchester United?
Thanks for being one of the first people to vote. Results will be available soon. Check for results
Carlos Queiroz

1,046 votes

Sir Alex Ferguson

5,671 votes

Louis Van Gaal

5,652 votes
Total Responses: 30,436
Not scientifically valid. Results are updated every minute.