Redknapp has only himself to blame
How the Spurs manager pushed his bosses too hard
As Harry Redknapp parts company with Tottenham Hotspur, Iain MacIntosh says the club's management had little reason to try to keep him.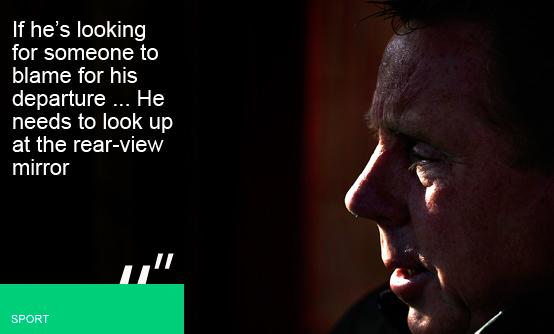 Harry Redknapp's record at Tottenham was excellent. He brought them good football, good results and that extraordinary run in the Champions League. But if he's looking for someone to blame for his departure, he doesn't need to roll down his car window and sound off to the media. He needs to look up at the rear view mirror.
I'm not a career advisor, but I think that if you're trying to publicly apply pressure on your boss, manoeuvring him into offering you a new contract, perhaps it's unwise to do it shortly after his mother has died. I'm not judging. I'm just saying, 'pick your moments.' It's also unwise to suggest that any lingering uncertainty over your future will make it impossible for you to motivate your players, especially if you spent all the time you were linked with the England job insisting exactly the opposite. Perhaps Redknapp thought that fan power would save him. Well, perhaps he thought wrong.
Far from launching a protest outside White Hart Lane, as one radio presenter suggested, a significant portion of Tottenham fans have actually welcomed Levy's decision. Having criticised their attitude repeatedly in the past, Redknapp never enjoyed a particularly close relationship with the supporters. They respected the success he brought the club, but they had long harboured doubts about his methods and his motivations.
There are many stories about Redknapp's managerial style. Some are true, some are not, but none of them will damn him like Rafael van der Vaart's revelation that, "There are no long and boring speeches about tactics…there is a clipboard in our dressing room but Harry doesn't write anything on it."
"This was never going to be the summer for a steady hand on the tiller"
As for his motivations, well that's a little more complicated. Did the England speculation blow his concentration? After the cathartic, post-trial 5-0 win over Newcastle on February 11,Spurs won just a single Premier League game in nine, wasting almost a quarter of the season and shedding an enormous lead over Arsenal. His supporters might argue that Didier Drogba's Champions League-winning penalty was the only reason that Redknapp was sacked. I'd beg to differ.
As good as a fourth place finish is for Tottenham, there are worrying signs of atrophy in the squad. Goalkeeper Brad Friedel was four years old when the Vietnam War ended and many of his team-mates are slipping into their 30s and beyond. As for the key players, Gareth Bale and Luka Modric, will either of them really fancy a second tilt at the Europa League? This was never going to be the summer for a steady hand on the tiller. It's the end of a cycle and Tottenham need a reboot.
So, who would you rather have revitalise your football club? A new, hungry manager, eager to prove himself or a 65 year old 'friend of the papers' who just happens to keep cropping up in the media linked with bigger jobs?
I don't blame Levy for a moment.
Iain is a football writer whose work regularly appears in publications from Dublin to Singapore. You can follow him on Twitter @IainMacIntosh
DO YOU THINK SPURS WERE RIGHT TO LET HARRY GO? TELL US ON TWITTER USING #SOCIALVOICES OR LEAVE YOUR COMMENTS BELOW
Welcome to #socialvoices. This is the home of sharp writing, opinion and social debate on MSN. Jump into the comments, tweet us with the hashtag. Join in.
No tweets available. Please try again later
Who will win on Sunday?
Thanks for being one of the first people to vote. Results will be available soon. Check for results
Total Responses: 754
Not scientifically valid. Results are updated every minute.