Boring? Spain are the greatest ever
Spain showed with their record win in the final why they are simply the best
Spain ran out comfortable winners in the final of Euro 2012, Andy Mitten explains why this team is peerless.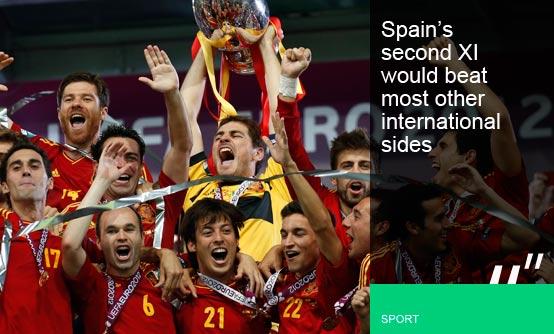 Different generations will have their favourites and I'd hate to argue against anyone who saw Brazil in 1970, but the current Spanish team will be remembered as the greatest ever international side.
Maybe not by those who started a backlash well before Spain outclassed Italy in Kiev. La Roja were 'boring' said the tall poppy hackers, a subjective comment because the hard facts proved otherwise. It was said so much it became boring.
So what caused offence? Having players with the technical ability to hold onto the ball, even when being chased down by five opponents? To boast players able to manipulate the ball or find a pass and space nobody can see? To have players so fit and tactically disciplined that they chase the ball down the instance they lose it, even after playing over 60 games this season?
Others from the 'change is not good' camp (HQ, Yorkshire) said playing without a recognised striker was an affront to football. Change is inevitable; others call it progress. When England played Scotland in the first international game in 1872, the formations were 1-1-8 and 1-2-7. Tactics have shifted.
Spain redefined how people look at football.

The funniest thing about Spain's tactical shift in Euro 2012 is that nobody saw it coming. The most informed voices were arguing about whether Alvaro Negredo or Roberto Soldado would start up front for La Roja before their first game against Italy. Neither did as Spain redefined how people look at football.
You don't have to love them, but Spain's consistency and quality must be admired. Their side is stocked full of experienced, bona-fide world class footballers with the medals for club and country to back up their status. Their second XI would beat most other international sides.
Spain are not spell-bindingly beautiful in every  game. No team is, but even at their worst nobody can beat them. No other international or team can say that.
Spain have done it for years. They've won every single competitive home game since a 1-0 loss to Romania six years ago, 25 consecutive victories on Spanish soil.
Their average FIFA ranking in the world in the last four years is first and they haven't lost a competitive game since their surprise opening World Cup loss to Switzerland in Durban two years ago.
Their midfield creators win the plaudits, but their defence was as impenetrable as Vicente del Bosque's moustache.

Spain may have lost friendlies but it doesn't matter. The Spanish federation is exploiting their status as a modern day football cash cow and that will continue – Puerto Rico away in the middle of August anyone?
When it matters, Spain perform brilliantly. Their midfield creators win the plaudits, but their defence was as impenetrable as Vicente del Bosque's moustache. They also won Euro 2012 without their best striker and their most emblematic defender.
Spain are sublime. Count yourself lucky to be alive to watch them in their prime.
Andy Mitten is a football writer living Barcelona and Manchester, you can follow him on Twitter @AndyMitten
DO YOU THINK ARE THE BEST TEAM EVER? LET US KNOW IN THE COMMENTS BELOW OR TELL ANDY ON TWITTER USING #SOCIALVOICES
Welcome to #socialvoices. This is the home of sharp writing, opinion and social debate on MSN. Jump into the comments, tweet us with the hashtag. Join in.
No tweets available. Please try again later
Who will win the Champions League?
Thanks for being one of the first people to vote. Results will be available soon. Check for results
Total Responses: 1,348
Not scientifically valid. Results are updated every minute.