England's problems run deep
Failures at national level go far deeper than the Premier League game.
England fail to beat a top side in a knock-out tournament once again, Andy Mitten dismisses suggestions that the Premier League's foreign imports are to blame.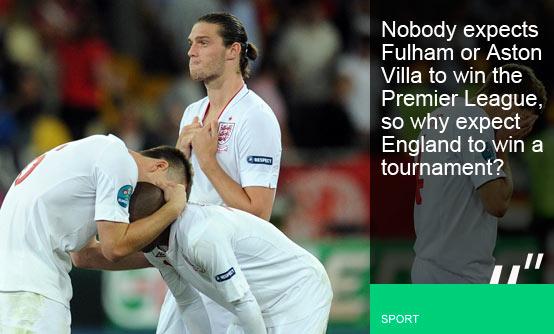 What's your reason for England's elimination from another major international tournament and the continued inability of the team to cut it in the knock-out stages?
Is it the one about there not being enough English players in the Premier League? You'd have a point, but not an emphatic one. Just shy of 40% of Premier League players are English, hardly different from Portugal's 40% Portuguese or the Bundesliga's 47% Germans. Half of Serie A's players are Italian, while 64% of the Primera Liga's are Spanish.
But don't hark back to a past when England's top division was overwhelming English, even in spite of all the top Welsh, Irish and Scottish players: England failed to make it to the Euros in 1984, didn't win a single game in the Euros of 1988 or 1992 and didn't qualify for the World Cup finals of 1974, 1978 and 1994.
Reverse those stats a touch. Not one England international plays outside England, the team a collection of insular mono-language islanders unused to different styles of football.

There are 2.25 million registered players in England against just 408,000 in Spain.

At a younger level, England suffer a chronic lack of quality coaches. Kids in Spain are coached by some of the 23,995 Spaniards who hold UEFA's B, A and pro badges. Italy has 29,420 and Germany 34,790. England has just 2,769. That's a huge gulf.
What's even more staggering is that there are 2.25 million registered players in England against just 408,000 in Spain.
Speak to decent English youth coaches in private and they'll tell you that the youngest kids are in the hands of substandard coaches, even at some top clubs.
While less marked ahead of these Euros, England suffer from acute over-expectation among fans. Yet even in Poland and Ukraine, England were the third favourites with some British bookmakers. Why? Nobody expects Fulham or Aston Villa to win the Premier League, so why expect England to win a tournament? It's the hope that kills.
...there are nine better teams

England are now ranked sixth in the world, but their average ranking is 10th in the last 20 years. That's because, on average, there are nine better teams. Simple.
While the team spirit is said to be good under flavour-of-the-month​ Roy Hodgson (he's England's 11th manager since 1990: all the semi-final nations have had fewer), we won't know the truth of such statements until years from now. For much of the 1990s, the England team divided into two cliques who loathed each other – the Manchester United and the Liverpool players, not that anyone said it publicly at the time.
England has a first tier league and a second tier national side. At international football, England may expect, but it only excels in one area: support. England's travelling following in the last four attended World Cup finals has been staggering, dwarfing that of major footballing nations.
The attendances were down for the Euros, but even in Kiev, the English outnumbered Italians by 6:1. Which is about the same ratio as the Italians dominated play on the pitch.
Andy Mitten is a football writer living in Manchester and Barcelona, you can follow him on Twitter @AndyMitten
WHAT DO YOU THINK IS TO BLAME FOR ENGLAND'S TOURNAMENT FAILINGS? LET US KNOW IN THE COMMENTS BELOW OR TELL ANDY ON TWITTER USING #SOCIALVOICES
Welcome to #socialvoices. This is the home of sharp writing, opinion and social debate on MSN. Jump into the comments, tweet us with the hashtag. Join in.
No tweets available. Please try again later
Who will win on Sunday?
Thanks for being one of the first people to vote. Results will be available soon. Check for results
Total Responses: 670
Not scientifically valid. Results are updated every minute.