A meaningful reminiscence: Coldplay set tone for Paralympics close
 A supreme end to a sublime summer.  As the last fireworks of the Paralympics closing ceremony seared away into the night, their echoes were borne still higher by the cheers of the exultant crowd.  This was magnificent.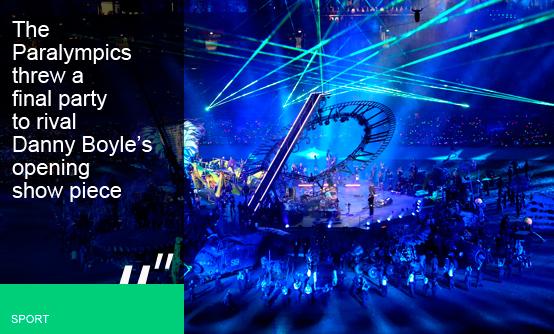 A fortnight ago, the Olympic Games had limped to a somewhat disappointing finish, a decent ceremony undermined by the breathless brilliance of the competition that had gone before.  But the Paralympics threw a final party to rival Danny Boyle's opening showpiece. 
Channel 4 started the evening with a montage - guaranteed way to raise tears in the current national mood; particularly when it features Ellie Simmonds first lancing through the pool like a shark in the open ocean and then weeping with ecstasy during her gold medal interview. 
"It was relentlessly psychedelic"
After the obligatory attempts by David Cameron and Boris Johnson to claim the Olympic bounce for their own (only one winner there), the spectacle was ready to begin.
The show of dance, drama, light and song that followed was only loosely based around the themes of the four seasons and of fire: any number of films sprang to mind as this very British ballet unfolded, chiefly Lord of The Rings and Mad Max.
 Before us, a battle between good and evil played out, with the Wind Gremlins – a swarthy, swaggering group of actors dressed like sky pirates – descending from huge wooden boats to skirmish with the Dreamers, dressed demurely in pale garments, who were resolutely guarding the Paralympic symbol.  Their fight then gave way to other fantastical sights, as crows high upon stilts stuttered into the stadium, accompanied by a convey of wheel-bound mechanical insects.  It was relentlessly psychedelic. 
As Channel 4's Jon Snow commented on Twitter, "someone must have dropped a tab or two to conjure this sequence".
"Chris Martin [was] encouraging the crowd rather than commanding it"
It was then that we arrived at the most contentious point of the ceremony, which was the appearance of Coldplay.  Few bands divide British opinion like the four-piece – they meet with as much bafflement and hatred as they encounter respect and reverence – but on this occasion they were undisputably an excellent choice. 
For many Britons, the Olympics and the Paralympics have represented an unexpectedly moving distraction from this country's economic woes; Coldplay, whose forte is a melancholy shot through with optimism, were the right act to bring a gentle end to this reverie. No cheap jingoism to leave a hollow taste after the Games' end but a sober and meaningful opportunity to reminisce and remember the lessons of a staggeringly potent two-and-a-half months.
Most impressive was that their performance was not notably egotistical: rather than treat the show as their gig with a series of garishly-clad extras, they behaved instead as if they were soundtracking the closing party, with Chris Martin encouraging the crowd rather than commanding it.
The most poignant part of the ceremony was inevitably the handover of the Games to Brazil.  Lord Coe gave a speech fewer than four hundred words in length, thanking the Gamesmakers – who received the most deserved of standing ovations – before Sir Philip Craven, to unanimous agreement, crowned these the best Paralympics ever. 
"Their penultimate song, "The Scientist", had the most appropriate refrain for these Paralympic Games"
It was then that Rio, in a short yet spectacular show, served notice of the carnival we can expect in four years time: their delegation gave us breakdancing Roman centurions bodypopping in their wheelchairs, whilst about them a troupe of singers and dancers bustled to samba and bossanova rhythms.   
Coldplay returned, to the grudging respect of much of Twitter, bringing along a surprisingly chaste Rihanna and a surprisingly muted Jay-Z (the only slight misstep of the event, in my view).
Their penultimate song, "The Scientist", had the most appropriate refrain for these Paralympic Games; as Chris Martin crooned "nobody said it was easy" against another reel of highlights from the previous two weeks, you could hear the rustle of a few million sniffling viewers reaching for their nearby napkins.   
This summer had been a singular triumph, evidenced by those who lingered in the stadium long after the last sparks of the fireworks had glittered out into the night.
"We're not going to reminisce and cry," said Clare Balding to her Channel co-host Ade Adepitan, almost as if to reassure herself.  As many of us turned away from our TV screens, we may, with the widest of smiles, have done exactly that.  To paraphrase Oasis, though, we should not "look back in sadness"; this was, as Lord Coe most fittingly said, a unique experience "Made in Britain", of which all citizens here can be rightly proud. 
The exhilaration has floated off into the sky like the last of the summer's flames: but the joyous memories remain.
Musa Okwonga is a poet, musician, football writer and social commentator, you can follow him on Twitter @Okwonga
WHAT DID YOU MAKE OF THE CLOSING CEREMONY? TELL MUSA ON TWITTER USING #SOCIALVOICES
Welcome to #socialvoices. This is the home of sharp writing, opinion and social debate on MSN. Jump into the comments, tweet us with the hashtag. Join in.
No tweets available. Please try again later
Where do you think Manchester United will finish in the league this season?
Thanks for being one of the first people to vote. Results will be available soon. Check for results
In the top four

2,616 votes

Between fifth and eighth

7,928 votes

Between eighth and twelfth

3,310 votes
Total Responses: 16,336
Not scientifically valid. Results are updated every minute.