Lethargic Liverpool left behind
Lack of new signings at Anfield leaves fallen giants dangerously short up front
With all the top clubs making moves in the transfer window, Liverpool find themsleves playing catch-up again says Iain Spragg.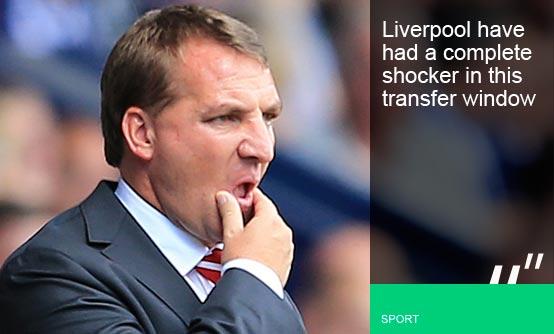 There's always something deliciously, tortuously exciting as the the transfer window prepares to slam stubbornly shut in the face of even the richest clubs. It's like sitting an exam. Finish at the scheduled time. No exceptions.
At 11 o'clock on Friday night it was all over again. The Premier League clubs spent a cool £490 million between them on new recruits, some hoping their investment will buy glory and silverware, others merely praying to stave off relegation and the financial wilderness that lies below.
Time will tell which clubs have invested wisely and which have put their money on black, only for the ball to land on red, but one thing is already crystal clear – Liverpool have had a complete shocker in this window.
The most obvious point to make is all their main rivals for a precious top four spot spent more. It's true that even in these days of eye-watering transfer fees and insane weekly wage packets, money isn't everything but the fact remains that even after such a dismal 2011/12 league campaign, Liverpool have been outspent by United, City, Chelsea, Spurs and Arsenal this summer.
Hardly a bold statement of intent to bridge the gap, is it?
Last season Liverpool could only muster 47 Premier League goals. In the top 10, only West Bromich Albion scored less.
Whether Brendan Rodgers wanted to dig deeper into the pockets of the Fenway Sports Group only to discover he'd already reached his credit limit will remain a private matter between the manager and the club's owners.

Rodgers won't publicly criticise FSG and the Americans are hardly likely to admit they couldn't afford more players.
But what is more ominous and unfathomable is the way Rodgers actually spent the £27.8million he got his hands on and why Liverpool once again look like a side fatally short up front And when it comes to goals, the numbers don't lie.
Last season Liverpool could only muster 47 Premier League goals. In the top 10, only West Bromich Albion scored less.

Own goals were tied with Steven Gerrard as the team's third top scorer. In contrast, only United and City boasted a better defensive record that the Merseysiders throughout the whole division.
Borini has got potential but a proven, polished goal scorer he is not.
The conclusion is obvious, right? Boost your strike force safe in the knowledge you have a miserly back four and the only way is up. It's really not rocket science.
And yet over the summer Liverpool have diluted rather than increased their goal threat. The departures of Craig Bellamy, Andy Carroll and Dirk Kuyt have robbed the side of 12 league goals between them while Rodgers paid £10 million for the services of Fabio Borini from Roma.
The young Italian has Championship experience on loan with Swansea and a single, solitary Serie A campaign under his belt. He's got potential but a proven, polished goal scorer he is not.
The Anfield faithful will now be screaming Luis Suarez at the screen but for all his tricks and talent, the Uruguayan is yet to reproduce the electrifying form he showed in his four seasons in Holland with Ajax.

His modest haul of 11 goals in the league last season, albeit hampered by his eight-match ban after the Patrice Evra affair, meant he didn't even break into the top 10 of Premier League marksmen.
Liverpool will have to pray Suarez can keep the boat afloat
And so we inevitably come to the thorny subject of Clint Dempsey. Last month FSG prematurely announced they had signed the American striker but it wasn't to be and on Friday night Tottenham snatched him from Liverpool's clutches in a £6 million deal.
I wrote on #socialvoices piece at time of that particular PR disaster that I thought Dempsey would take Liverpool backwards but like FSG, I was too quick off the mark.

The striker remains an honest, solid citizen rather than a star but beggars cannot be choosers and the Reds desperately needed to sign a forward to bolster their ranks.
Dempsey wanted to go to Anfield. Liverpool offered Fulham £4.5 million but Spurs were able to hijack the deal with just £1.5 million more and Rodgers, it seems, didn't even put up a fight.

It leaves Liverpool with an alarming paucity of strikers and for the next four months and the opening of the January window, they will have to pray Suarez can keep the boat afloat as Borini adapts to the pace and the power of the Premier League.
Some of the Anfield clubs' rivals like Chelsea did the bulk of their business this summer early. Others, like Tottenham, took some of their signings right down to the wire.
Liverpool did neither.
Iain Spragg is a writer, author and Spurs fan. Follow him on Twitter @angryspraggy
ARE LIVERPOOL ARE IN SERIOUS TROUBLE OF BEING LEFT BEHIND? LET US KNOW IN THE COMMENTS BELOW OR TELL IAIN ON TWITTER USING #SOCIALVOICES
Welcome to #socialvoices. This is the home of sharp writing, opinion and social debate on MSN. Jump into the comments, tweet us with the hashtag. Join in.
No tweets available. Please try again later
Who will win on Sunday?
Thanks for being one of the first people to vote. Results will be available soon. Check for results
Total Responses: 1,110
Not scientifically valid. Results are updated every minute.