Amnesty or bust
Cycling must make a total transformation in order to move on
After the USADA's condemming report of Lance Armstrong, Daniel Benson argues it's do-or-die for cycling now.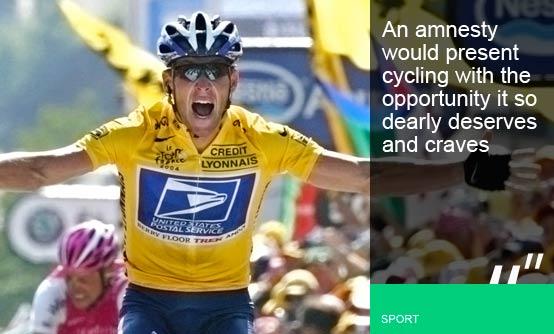 We've been here before haven't we? In 1998 when the sport of cycling was rocked by the transgressions of the Festina affair we held our breath as we waited on a dawn of new cycling to provide a hope for a clean sport.
It never materialised. Instead we were fed lies upon lies as a breakthrough for clean cycling was plugged by a governing body and a generation of athletes who chose to shy away from tackling the issue of doping.
A complex web of deception and conspiracy manifested itself until those that chose to stay pure and ride clean were ostracised from the sport.
Victims included the French rider Christophe Bassons, who was bullied into retirement; and Betsy Andreu, an outspoken advocate for clean cycling, who was condemned and vilified.

"The 1,000 pages of evidence make for sobering reading"
 Cycling was brought back to point where the doping culture and Omerta's rule of silence governed.
Since then there have been minor breakthroughs. In 2006 Operacion Puerto allowed us to scratch the surface of one of the largest doping rings ever uncovered, and the EPO CERA cases of 2008 raised hope that cycling was on the right path.
In conjunction the UCI's biological passport narrowed the opportunities for cheats, while WADA has campaigned tirelessly on a global stage.
But now cycling finds itself at another cross-road – at another Festina moment.
Yesterday's damning report of Lance Armstrong and the US Postal Service team brought to light a team that was wrapped in doping practices, from the use and attempted use of prohibited substances; the possession of prohibited substances, drug trafficking, and assisting, encouraging, aiding, abetting, covering up and other complicity involving one or more anti-doping rule violations.
A long list.
"It's unlikely - despite Armstrong's choice not to fight USADA's charges - that the American will confess"

Amongst the evidence, 26 testimonies - including 11 from former teammates of Armstrong - all of whom were prepared to swear on oath about their own crimes and that of their team leader.
The 1,000 pages of evidence make for sobering reading, and the confessions of riders who for so long proclaimed themselves innocent echo and resonate.
It's unlikely - despite Armstrong's choice not to fight USADA's charges - that the American will confess.
As David Walsh told Cyclingnews on Thursday, "it isn't simply a case of saying I doped. Then people would ask, Lance were you the kingpin and did you coerce others to dope?"
So where does cycling go from here? Lining up the peloton from the 1999 Tour de France in order to note 196 confessions may be futile, such was the degree of cheating at the time, however an amnesty would present cycling with the opportunity it so dearly deserves and craves.
Yet any amnesty shouldn't just be engineered around athletes. The governing body, first and foremost, must address any failings they made during Armstrong's era. Only then can cycling finally move forward.
Daniel Benson is the managing editor of Cyclingnews.com. You can follow him on Twitter at @dnlbenson
WHAT DO YOU THINK SHOULD HAPPEN IN CYCLLING NOW? LET US KNOW IN THE COMMENTS BELOW OR TELL DANIEL ON TWITTER USING #SOCIALVOICES
Welcome to #socialvoices. This is the home of sharp writing, opinion and social debate on MSN. Jump into the comments, tweet us with the hashtag. Join in.
No tweets available. Please try again later
Who will finish highest in the Premier League?
Thanks for being one of the first people to vote. Results will be available soon. Check for results
Manchester United

662 votes
Total Responses: 4,017
Not scientifically valid. Results are updated every minute.