Pearce was right to snub Beckham
Beckham's time has passed. We must look to the future.
Stuart Pearce has decided not to pick David beckham in his Team GB squad, Iain MacIntosh explains why this is the right decision.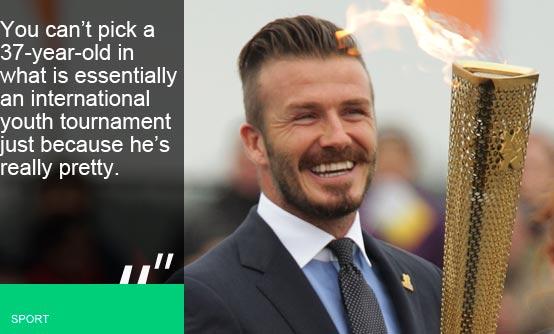 The decision to leave David Beckham out of the British Olympics squad this summer is a brave one, but it's also the right one.

Stuart Pearce may not have made many friends at the Olympic ticket office today, but he's done the right thing for Team GB. Beckham's time at the pinnacle of world football has passed.

You can't pick a 37-year-old for what is essentially an international youth tournament just because he's really pretty.
Like everyone else in the Western world, I assumed that Beckham would be one of the three 'over-23' players in Pearce's squad. The poor man has been shaking hands and kissing cheeks for the British Olympic Association for years and after all that, it seems rather rude not to invite him along for a kick-about.

Those three over-age players should be picked for ability, not for having cheekbones so sharp that they could split a falling snowflake in two.

He would have looked fantastic on the posters, he could have reignited the British economy with shirt sales alone and he's quite good at free-kicks.
Fortunately, Pearce is looking for a little more than that. He actually wants to win the tournament and for that we should be grateful.

The South Americans have been taking the Olympics seriously for years, using it as an opportunity not for flogging merchandise, but for improving their senior team by blooding youngsters alongside established stars. Those three over-age players should be picked for ability, not for having cheekbones so sharp that they could split a falling snowflake in two.
Beckham's performances for LA Galaxy last season were impressive. He was second in the assist charts and ended the campaign with the title. But even Posh Spice couldn't make a convincing argument that he's one of the three best senior British footballers available to Pearce.

If we're looking for a 'Pirlo' player, I'd rather have Paul Scholes.

MLS is improving all the time, but it's still a long way from matching the levels found in Europe. While Beckham's passing is still accurate, he's glacially slow and he can't tackle. Where would you play him? Out on the wing where he can't run or in the middle where the game would pass him by? If we're looking for a 'Pirlo' player, I'd rather have Paul Scholes.

Would Beckham have any impact as a substitute? He's hardly the kind of player you'd bring on if you were chasing the game, is he? The only role he could play, on the field at least, would be a sentimental 20 minute cameo if the match was safe. And what's the point of that?
Off the field, there's a reasonable argument for his inclusion. He has always carried himself impeccably and he can provide counsel for young up-and-coming players. But he also brings a wave of unwanted publicity. A number of England players actually rejoiced when Steve McClaren snubbed Beckham because of the media frenzy he always brought with him.
Pearce has made his call. He has decided that he favours success over sentimentality and for that, few could fault him.

Beckham has been a wonderful servant for his country, but I'd rather remember him for his glory days than for trundling red-faced around Wembley Stadium, caught in the slipstream of men half his age.

Pearce is right. It's time to look to the future.

Iain is a football writer whose work regularly appears in publications from Dublin to Singapore. You can follow him on Twitter @IainMacIntosh
DO YOU THINK BECKHAM SHOULD HAVE BEEN SELECTED FOR TEAM GB? TELL US ON TWITER USING #SOCIALVOICES OR LEAVE YOUR COMMENTS BELOW.
Welcome to #socialvoices. This is the home of sharp writing, opinion and social debate on MSN. Jump into the comments, tweet us with the hashtag. Join in.
No tweets available. Please try again later
How did you rate the Commonwealth Games opening cermony?
Thanks for being one of the first people to vote. Results will be available soon. Check for results
The best: better than the Olympics

33 votes

Good: well planned and executed

137 votes

OK: what I expected

162 votes
Total Responses: 583
Not scientifically valid. Results are updated every minute.