The medals are just a sideshow
There's no question about the quality of the sport but London 2012 has been about so much more, says Musa Okwonga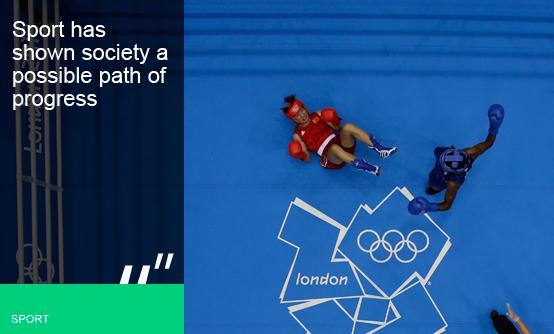 And so we come to the close of the Olympics: and, though they are described as mere Games, it often felt as though they were much more than that.  Many of this event's greatest stories were to be found far from the podium.
Of course, there have been amazing sporting feats.  Great Britain, the tournament's hosts, have secured third place in the medal table, aided by a number of stunning individual victories from Jessica Ennis, Greg Rutherford, Bradley Wiggins, Jade Jones, Andy Murray and more.  New marks, too, were set in the track and pool - the world record gold medal haul by the US swimmer Michael Phelps; the world record for Kenya's 800m champion David Rudisha; the world record broken by the US women's 4x100 relay team in the final.
But the best part of these Games, in many ways, has been the way in which sport has shown society a possible path of progress.  Wojdan Shaherkani, a judo competitor, and the US-dwelling Sarah Attar, who ran in the 800 metres, became the first Saudi Arabian female athletes to take part in the Games.  Though their appearance has been greeted by many as a figleaf, it represents an opportunity to force further the crucial question of human rights in that country.  
"Nicola Adams may have defeated her opponent on points but she knocked out cold a whole series of deep-set prejudices"
The Olympic spirit was compellingly evident, too, in one of the most iconic sporting images in recent years.  This saw the Chinese superstar hurdler Liu Xiang, who pulled up in injury after a few metres of his heat, hopping the length of the track and then being helped off by his fellow athletes.  It was tragic and touching in equal measure for the national hero, who had endured similar misfortune at the 2008 Games in Beijing, yet it showed the resolve and communal spirit as envisaged by the founders of the Olympics.
The lasting legacy, though, may involve a very British success, as the ever-smiling Nicola Adams became the first woman to win boxing gold at the Games: her technique, and in particular her footwork, would have been admired by many of the greats. She may have defeated her opponent on points but in those four rounds she knocked out cold a whole series of deep-set prejudices.  
Athlete's male and female, old and young, royal and commoner have acheived equal recognition and adulation. The omens look good that one of the most damning blights on our society can also be addressed when paralympic athletes are offered the same stage in a few weeks.
Sport, when as thrilling as this, may be able to provide a catalyst for change in the wider world; it can often push us towards equality more powerfully than any protest or speech. 
Musa Okwonga is a poet, musician, football writer and social commentator, you can follow him on Twitter @Okwonga
WHAT DO YOU THINK HAS THE MOST SIGNIFICANT MOMENT OF THE LONDON 2012? TELL MUSA ON TWITTER USING #SOCIALVOICES
Welcome to #socialvoices. This is the home of sharp writing, opinion and social debate on MSN. Jump into the comments, tweet us with the hashtag. Join in.
No tweets available. Please try again later
Is Balotelli a good signing for Liverpool?
Thanks for being one of the first people to vote. Results will be available soon. Check for results
No, he's too much trouble

316 votes

No, he's not good enough

50 votes

Yes, for £16M you can't go wrong

202 votes

Yes, he will be an Anfield hit

114 votes
Total Responses: 682
Not scientifically valid. Results are updated every minute.