Seve and Co deliver greatest comeback ever
After Europe make history by overhauling the US's 10-6 lead on the final day, Musa Okwonga hails the role played by the late Seve Ballesteros and those who honoured him.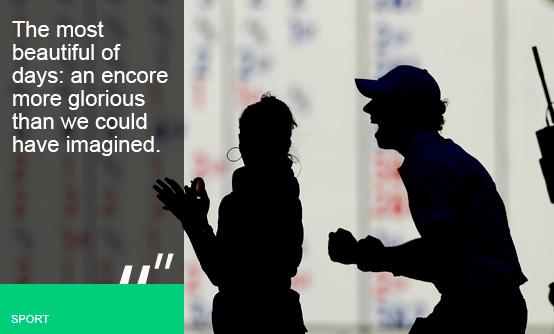 Well, well, well.  We all know that this has been a year of unprecedented majesty in sport, but we thought, after the summer-long chorus of euphoria that was the Olympics and the Paralympics, after the late-night sensation of Andy Murray's US Open win, that 2012 would roll quiet and dignified to a close.  We had no right to expect any timeless drama, much less endless joy. 
"American onlookers could have been forgiven for passing their sincerest condolences to the forlorn Europeans who had travelled all the way there"
And then, like the last and grandest fairground ride that you stumble across after a day at the amusement park, the Ryder Cup sidled shyly into view, to deliver the greatest thrill of them all. 
The most epic Ryder Cup clashes seem to come when Europe play away from home.  It's then that the Americans, surrounded by their raucous and adoring hordes, are at their most formidable.  Most memorably, there was Kiawah Island in 1991, the "War on the Shore": and, though the atmosphere here was far less ill-tempered, it was every inch as intense. 
In 1991, the Cup had gone to America after Bernhard Langer had missed a crucial six-foot putt: this time, going into the final round, there was no indication that it would have been anything near as close.  On the last day, with Team USA ahead by 10 points to 6, most American onlookers could have been forgiven for passing their sincerest condolences to the forlorn Europeans who had travelled all the way there. 
After all, the Americans had not conceded a margin of victory like this since 1927, when the tournament began.
But, but, but. Those wise doubters – we wise doubters reckoned without Ian Poulter, whose strokeplay was as extravagant as his clothing (when not bedecked in Ryder Cup colours, of course).  We reckoned without the Goliath moment of Justin Rose going toe to toe with Phil Mickelson, one of the finest matchplay golfers the game has seen, and overhauling him on the last two holes with two birdies. 
We didn't think that Europe would hand Team USA a spectacular whitewash over the first five singles of the day.  Of course we didn't!  The sport in August alone had already given us a decade worth of miracles.  Why more?  Why now?
Why not?  Thankfully, Team Europe didn't care for such happy improbabilities.  They just kept advancing, and kept rising, driven on by the winning spirit of both the older hands – with Jose Maria Olazabal, the team's captain, serene at the helm – and the young elite, typified by the newly nerveless Rory McIlroy. 
"It was perhaps the greatest comeback that we had ever seen in a sporting arena"
And, if we are to talk of spirit, then we should probably look to perhaps the greatest influence behind this win, who nevertheless did not play a single stroke.  Seve Ballesteros, the spectacular Spaniard who succumbed to brain cancer last May at the age of 54, was the subject of the most moving of tributes from Team Europe.  They each teed off the final round dressed in navy and white, Ballesteros' beloved colours, and they gave us a show of flair and fortitude wholly worthy of the great man.
In this day of poignant narratives, it was left to a German, Martin Kaymer, to lay the ghost of Bernhard Langer in 1991. Standing on the 18th green over a six-foot putt to claim the Ryder Cup, his competitor Steve Stricker looking anxiously on, he flourished where his compatriot had faltered.  Kaymer stepped back, measured both the shortness of distance and the enormity of the moment, and then, quietly and with dignity, rolled the ball home.  This was the most beautiful of days: an encore more glorious than we could have imagined. 
It was perhaps the greatest comeback that we had ever seen in a sporting arena: and the man at the centre of it all, Ballesteros' closest friend in golf and life, was in no doubt at all.  In a post-match interview, he was asked where this ranked among his achievements, and with tear-streaked eyes he simply replied, "number one".  And, as anyone offering prayers up there to Seve would say, "amen to that".
Musa Okwonga is a poet, musician, football writer and social commentator, you can follow him on Twitter @Okwonga
HOW DO YOU THINK EUROPE'S 2012 RYDER CUP WIN RANKS AMONG SPORT'S GREATEST COMEBACKS? TELL MUSA ON TWITTER USING #SOCIALVOICES
Welcome to #socialvoices. This is the home of sharp writing, opinion and social debate on MSN. Jump into the comments, tweet us with the hashtag. Join in.
No tweets available. Please try again later
Who will win the Champions League?
Thanks for being one of the first people to vote. Results will be available soon. Check for results
Total Responses: 1,529
Not scientifically valid. Results are updated every minute.