PSG might outspend but will never outperform City
PSG may be the summer's big spenders but the French league isn't strong enough to make them European giants
As Paris Saint-Germain look to buy success in the transfer window, Andy Mitten explains why they'll never be better than Manchester City.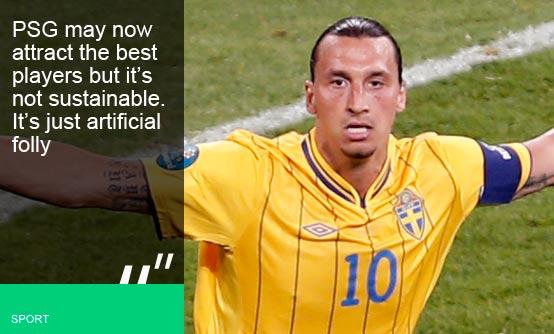 No team spent more money on players last summer than Paris St Germain. Thanks to the new ownership by the Qatari Investment Authority, PSG's spending has been able to top even Manchester City's.

Coached by Carlo Ancellotti for most of last season, PSG boasted a glittering front three comprising of Europe's most expensive signing last term, Argentinian midfielder Javier Pastore, the excellent Brazilian Nene, plus French international Jeremy Menez.
They were hot title favourites, yet they didn't win the league. Montpellier triumphed - a team who spent almost nothing and whose playing budget of €36 million-a-year is below average in Ligue 1. And so, the French top flight remained Europe's most fascinatingly unpredictable division.
Rivals questioned PSG's big time status. But when PSG were linked to Carlos Tevez in January but instead signed 30-year-old full-back Maxwell from Barcelona, Montpellier's outspoken president cheekily asked: "Maxwell, isn't that a coffee?"
A city as big and exalted as Paris should have a team to compete with the best in the world.
PSG will blow away any such doubts this summer. They have already splashed out €42 million on Brazilian defender Thiago Silva and are favourites to sign former Milan teammate Zlatan Ibrahimovic in what would be another big money move.
The Parisians, who are in the Champions League after finishing second, will have a superb squad, but I'm not sure the investment will actually pay off.
Like City and Malaga in Spain, PSG were far cheaper to buy than a Manchester United or an Arsenal, yet the purchase was strange.
A city as big and exalted as Paris should have a team to compete with the best in the world. The location helps attract players, yet Ligue 1 is not the Premier League or the Primera Liga. No French club can ever complete with English elite
Their options for growth are limited and PSG already fill their ageing Parc des Princes home with a capacity of 47,00. Unless, that is, they move to the 80,000 capacity national stadium Stade de France which would be rightly unpopular.
Ligue 1 is not a league which acts as launch pad for success like other stronger leagues.
It may be competitive, but Ligue 1 is the fifth biggest league by revenue in Europe and the international appeal lags well behind England, Spain, Germany and Italy. And while TV revenues have boomed in England, the latest domestic Ligue 1 deal saw a decrease with four of the five packages not reaching the anticipated prices.
Average French crowds dropped last season to 18,869 - down 3,000 on the figures five years ago - while the transfer market remains depressed and, apart from the activity at PSG, the best players continue to leave.
On the field, only one French team has ever won the European Cup (Marseille in 1993). It's not a league which acts as launch pad for success like other stronger leagues.
PSG are bucking the trend of the best players going to England or Spain, but it's not sustainable, it's just an artificial folly.
Manchester City's rise has cost hundreds of millions, yet they have a plan. As well as investing heavily into the depressed community of East Manchester to justify their flashing of Sheik Mansour's billions, they are in a league of burgeoning revenues.

They'll ride off the back of that, expand the stadium and then they hope to comply by the time UEFA's financial fair play rules kick in fully in 2018. 
PSG? At the moment it seems like a showcase for the Qatari Investment Authority who don't care how much they spend as they go in search of a substantial trophy haul they've so far failed to achieve. Financial Fair Play? They might be the biggest test to see if it's just all talk.
Andy Mitten is a football writer living Barcelona and Manchester, you can follow him on Twitter @AndyMitten
DO YOU THINK PSG WILL OVERTAKE MANCHESTER CITY? LET US KNOW IN THE COMMENTS BELOW OR TELL ANDY ON TWITTER USING #SOCIALVOICES
Welcome to #socialvoices. This is the home of sharp writing, opinion and social debate on MSN. Jump into the comments, tweet us with the hashtag. Join in.
No tweets available. Please try again later
Who will win on Sunday?
Thanks for being one of the first people to vote. Results will be available soon. Check for results
Total Responses: 402
Not scientifically valid. Results are updated every minute.