London Orient: it's about the big picture
After Barry Hearn announced a proposal to turn Leyton Orient into London Orient, Matt Porter, the club's chief executive, explains his vision for the future.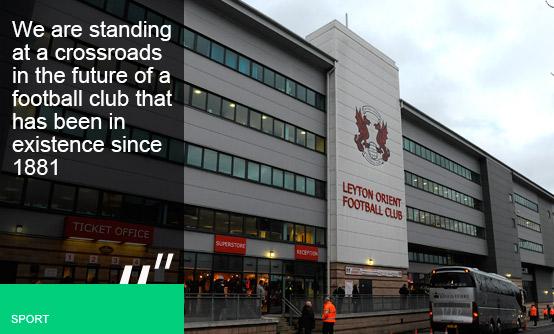 If I've learned one thing in 12 years of working for Barry Hearn, it's how to get a headline. Quite simply, nobody does it better.

Friday morning's Daily Telegraph was a perfect example as his interview with Paul Kelso over the current state of our application for tenancy of the Olympic Stadium screamed out his idea to change the Club's name to London Orient if we're successful.
"If you want to get fed you have to have a seat at the table."

We know not all of our fans would  be keen on this idea and we know, as do others who are running the same race as us, that there are a large number out there who wouldn't even want to watch their team play in the Olympic Stadium, even if the government press the button to spend north of £150m on completely rebuilding the lower tier with retractable seating (which by the way, was what we told them they should build back in 2007 before a spade had even hit the ground).

But we also know that there are a good number out there who acknowledge that that the Club's name has changed in line with its location previously, and that this could present a chance for us to make a serious attempt at achieving long-term Championship status, with the profits from the sale of our current stadium invested fully in the squad.

If you want to get fed you have to have a seat at the table, and however far-fetched Barry's dream may seem to some people, you can't criticise him for having a vision of an Orient operating on a different level to where we are currently.

We believe that if West Ham United were to be awarded the right to play in the Olympic Stadium on their own, it would kill our football club. Not today, not tomorrow, but slowly and painfully over time, strangling our ability to attract new supporters and maintain our strong and healthy presence within the grassroots of our east London homeland.
"We could successfully rebrand ourselves in to the number one community club for the capital"

If you don't go along with that theory, ask the bloke who runs your local corner shop what would happen if Tesco Express opened up next door. Sure, those that had been buying their papers off him for years would probably continue to do so – but what about the young family that move in to the area? Where would they shop?

We are confident that we could successfully rebrand ourselves in to the number one community club for the capital. We would have sufficient capacity to incentivise new fans to give us a try on more than a one-off basis, and we would have sufficient nous and understanding to ensure that our long-standing supporters were rewarded for their loyalty appropriately.

But it's jumping the gun to treat the situation as a done deal. There's a growing school of thought that subscribes to the theory that the powers that be will resist the temptation to put a football tenant in place, and keep the stadium as a multi-purpose facility at a much lower cost on the public purse.

But regardless of the verdict that comes out of City Hall over the next couple of weeks, we are approaching the culmination of a five year period of debate, conjecture and political manoeuvring, and we are standing at a crossroads in the future of a football club that has been in existence since 1881.

All those charged with making those decisions must realise the seriousness of the situation and ensure they uphold their duties appropriately.
Matt Porter is chief executive of Leyton Orient, you can find him on Twitter @mattporter_lofc
HOW DO YOU THINK FOOTBALL CLUBS SHOULD ADAPT TO THE FUTURE? LEAVE YOUR COMMENTS BELOW OR SHARE THEM ON TWITTER USING THE HASHTAG #SOCIALVOICES
Welcome to #socialvoices. This is the home of sharp writing, opinion and social debate on MSN. Jump into the comments, tweet us with the hashtag. Join in.
No tweets available. Please try again later
Who will win on Sunday?
Thanks for being one of the first people to vote. Results will be available soon. Check for results
Total Responses: 456
Not scientifically valid. Results are updated every minute.