Roy's Escape is Victory
Let's celebrate qualification before we go overboard...
As England look forward to their quarter-final against Italy, Iain MacIntosh explains how just getting out of the group is a success.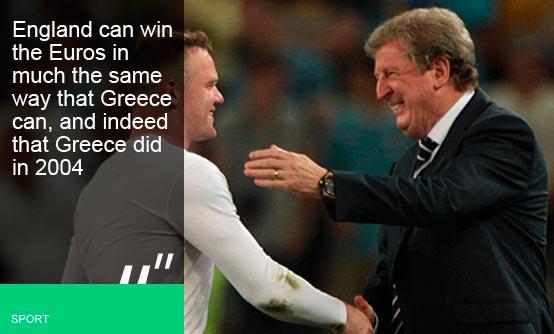 It has begun. From the ashes of the 'Give it to 'Arry' banners of the press, the phoenix of 'Hodgson's Heroes' has burst forth. In spite of everything we've seen with our own eyes, expectations have exploded.

All of a sudden, perfectly rational people are gibbering that they can, "see us beating Germany in the semi-finals," as if Italy are the traditional minnows at this level and barely worth thinking about. Let's all take a breath, eh?

Not least because we need to reflect on what a stupendous achievement it was to get out of that group.

In breaking free, unbeaten no less, of that particularly nasty qualifying pool, Roy Hodgson has wildly over-achieved. Let's go back to those wobbly pre-tournament days for some context.

With their inability to hold possession for more than 20 seconds, they are whatever the opposite of tiki-taka is. Taka-tika?

He was the choice of hardly anyone outside of the FA panel, he courted controversy with the way he dealt with the John Terry issue, he risked his credibility by picking Stewart Downing, he was mocked on the front page of The Sun for having a speech impediment and the general consensus was that this could be the England squad to finally ease the burden of the whitewashed team of '88. 
In the interests of fairness, my view was that England would raise themselves to draw with France, but would slump to defeat against Sweden and would be held by the host nation in front of a gleeful partisan crowd. And I was one of the kinder commentators.
England are not a good football team. With their inability to hold possession for more than 20 seconds, they are whatever the opposite of tiki-taka is. (taka-tiki?) They don't create an awful lot of chances, they don't dominate possession, but they do win football matches.

They do it with attributes we haven't seen in an England team for a very long time; hard work, determination and positional discipline. All of this is Hodgson's doing. This is what he has brought to the national team in spite of all the obstacles and opponents he's had to face.
England can, potentially, possibly, perhaps, do very well this summer.
England can win the European Championships in much the same way that Greece can, and indeed that Greece did in 2004. One of the most wonderful aspects of football is that way that clever, or simply obdurate tactics can neutralise even the most talented band of fancy-bottomed elves, regardless of how many short passes they can rack up over 90 minutes.

England can, potentially, possibly, perhaps, do very well this summer. But let's relax for a moment.
The over-excitement can wait. Even if Italy obliterate England this weekend and send them limping back to Luton airport with their tails between their legs, this will still count as a hugely successful tournament for Hodgson.

And that, given all the things that were said about him a month ago, is an immense achievement.
Iain is a football writer whose work regularly appears in publications from Dublin to Singapore. You can follow him on Twitter @IainMacIntosh
Welcome to #socialvoices. This is the home of sharp writing, opinion and social debate on MSN. Jump into the comments, tweet us with the hashtag. Join in.
No tweets available. Please try again later
Which English club will go furthest in the Champions League?
Thanks for being one of the first people to vote. Results will be available soon. Check for results
Manchester City

2,180 votes
Total Responses: 10,315
Not scientifically valid. Results are updated every minute.