Greed is killing football
Clubs and players need to adjust to new economic reality
As the Euros spur football fever around the continent, Peterborough United chairman Darragh MacAnthony warns that the football's lifeblood is under threat.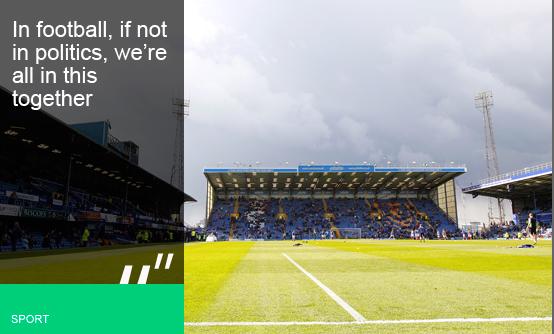 There is a recession going on in football but someone forgot to tell the players and their agents (and a handful of Premier League clubs).
Towards the end of 2008 the financial world went into meltdown and world economies nosedived. A large percentage of the global population has been affected in one-way or another - including me and probably most of the people reading this blog.
The Football League and its 72 members have also been victims of this recession with many of our most recent television and commercial deals being renewed for nearly 30% less then previous agreements. Many clubs will have seen dips in their attendances due to fans suffering economically, commercial revenue will also have dipped and turnover in general has been hit.
You only have to see the struggles of clubs such as Portsmouth, Plymouth, Luton, Port Vale and many others who have sailed close to the line to appreciate how tough it really is. I am constantly told that there are more out-of-contract or unemployed footballers right now than ever before, which gives you an idea of what's really going on in football at the moment.
"Football is an industry"
A small number of players are insulated from this economic downturn – they are so high profile that they will always find a club willing to meet their demands. We see them in the papers, we all know their names. I'm not writing about them, they are a creation of the modern game and as far as I'm concerned they can carry on going as they have done without causing too much damage to anyone except the pockets of some very, very rich foreigners.
But football is an industry and most of the people employed in that industry need to be mindful of the economic climate. Just as in factories or bus depots, workers have two options: they can talk to their employers and agree a reasonable package that is going to ensure their long-term future by protecting the sustainable future of the business; or they can try to suck as much out for themselves in the short term, ensuring that they become a burden to the business and either have to be booted out or drag their employers and their colleagues down.
"They thought they could hold my club hostage"
I appreciate that it's a short career span and players feel the need to earn as much money as they can from a transfer or new contract, but sometimes common sense must prevail.
I can think of a number of recent examples where players have refused sound long-term deals because they thought they could hold my club hostage. To be fair, it's often the agents who are behind it, trying to get their cut. But players themselves need to take some responsibility to make sure the greed of some hangers-on with no connection to the club or its fans don't put their own financial interests first.
Don't get me wrong; there are plenty of fantastic players with professional agents who act impeccably at all times and are a real credit to their profession but there is just not enough of them in the football world to help fix this problem fast enough.
In football, if not in politics, we are all in it together: players, fans and owners. The fans are doing their bit; I can affirm that most owners are also digging deep. Now it's the players' turn.
Darragh MacAnthony is a businessman, supporter of the Free Kicks Foundation and owner of Peterborough United. You can follow him on Twitter at @DMAC102
DO YOU THINK PLAYERS HAVE TOO MUCH POWER IN THE MODERN GAME? LET US KNOW IN THE COMMENTS BELOW OR TELL DARRAGH ON TWITTER USING #SOCIALVOICES
Welcome to #socialvoices. This is the home of sharp writing, opinion and social debate on MSN. Jump into the comments, tweet us with the hashtag. Join in.
No tweets available. Please try again later
Who will win on Sunday?
Thanks for being one of the first people to vote. Results will be available soon. Check for results
Total Responses: 121
Not scientifically valid. Results are updated every minute.