RVP and Rooney won't work
Robin Van Persie could end up costing Manchester United more than the £24m they paid for him if his arrival upsets the balance of a team
Manchester United have agreed a fee with Arsenal for the sale of Robin van Persie, but Adrian Clarke argues this isn't Sir Alex Ferguson's greatest move.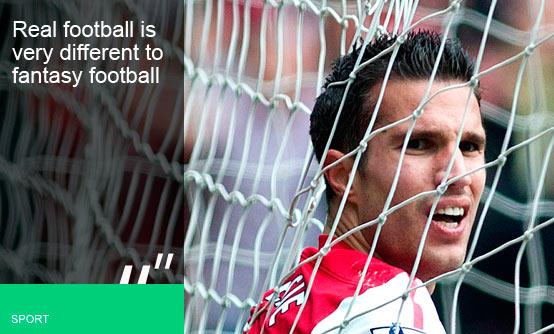 So Robin van Persie has got his way, and joined the club of his financial dreams.
The Dutchman faced a simple choice; achieve legendary status at the Emirates by committing himself to a loving relationship with Arsenal, or clumsily manufacture an ugly divorce in order to dramatically increase his wages elsewhere. Anywhere.
One disrespectful statement later and the decision was made, and who can blame a man for seizing the chance to plunder considerably more loot for doing exactly the same job. Many would.
And Van Persie's fallen on his feet hasn't he? Working with Sir Alex Ferguson at the Theatre of Dreams, playing alongside Wayne Rooney and co. in the hunt for silverware hardly seems like a major sacrifice for his sins. The player must be cock-a-hoop. And so will Manchester United be at their £24m coup.

RVP has developed into one of the world's most impressive number nines but without the need, or want of a partner.
When your existing 27-goal superstar is suddenly partnered with the sole member of last season's 30-goal club what could possibly go wrong?
Personally, I'd say plenty.
Okay, on paper it's a formidable partnership. Both popular characters in the dressing room, one is left-footed, the other right. They are comfortable dropping deep, but equally happy to run in behind. Watching these two exceptional talents in tandem should be a treat for the Stretford End.
But how's it going to work? That's what I want to know.
The Dutchman has developed into one of the world's most impressive orthodox number nines during the last 18 months but he's done so without the need, or want of a partner.
He's accustomed to leading the line in solo fashion, not just for his club but for his country too. For example, while it seemed a good idea at the time, teaming the prolific Klaas-Jan Huntelaar with Van Persie at Euro 2012 (albeit in desperation) it ended up being nothing short of, well, desperate.

4-4-2 will leave his wafer-thin central midfield cruelly exposed in the biggest matches too.
Fergie doesn't have to play 4-4-2 I hear you cry, and that's true. But he mostly seems to. And that means things could get a little crowded up there, especially when you consider most of Rooney's goals are bagged from similar positions inside the penalty area to the Dutchman.
It's a system that will also leave his wafer-thin central midfield cruelly exposed in the biggest matches too.
If United operate with a 4-2-3-1, 4-4-1-1, or 4-3-3 system instead, as could be the case, it will be Rooney that drops into 'the hole' and reportedly he loves that spot.

But how much will Wazza love it when Van Persie's name soars clear at the top of the club's goalscoring charts? I wonder.
In-house rivalry is inevitable as both players thrive on being the main man, THE superstar of their respective sides.

Will the development of burgeoning talents Welbeck and Hernandez be stunted if the manager is reluctant to drop one of his star men?
Van Persies's magical 2011/12 campaign was his first injury-free spell granted, but is it a coincidence he stepped up once Cesc Fabregas and before him Thierry Henry had moved on?

The same applies to Rooney, who has grown slowly but spectacularly into his role as talisman since Cristiano Ronaldo left for Real Madrid.
There are other concerns too. Will the development of burgeoning talents Danny Welbeck and Javier Hernandez be stunted if the manager is reluctant to drop one of his star men?

If Rooney plays deeper where does that leave £17m new boy Shinji Kagawa? Wouldn't Fergie have been wiser strengthening his weaker midfield and full-back positions?
Preventing Manchester City from signing Van Persie and adding him to the United ranks seems like a win-win situation on the face of it, but ask yourself how many of the world's most successful sides have contained two truly superstar strikers.

They tend to either contain one top man with a content supporting cast, or as was the case with United's wondrous class of 1999, a clutch of strikers viewed as equals.
As an Arsenal fan, I may be perceived as sounding bitter and twisted but I genuinely don't know if there's room for Rooney and Van Persie at Old Trafford. 
Real football is very different to fantasy football.
Adrian Clarke is a writer, television presenter and former Arsenal footballer, with lots of opinions about many different sports.
DO YOU AGREE THAT THAT RVP AND ROONEY WON'T WORK? LET US KNOW IN THE COMMENTS SECTION BELOW OR USING #SOCIALVOICES ON TWITTER.
FOLLOW ADRIAN CLARKE ON TWITTER
Welcome to #socialvoices. This is the home of sharp writing, opinion and social debate on MSN. Jump into the comments, tweet us with the hashtag. Join in.
No tweets available. Please try again later
Which English club will go furthest in the Champions League?
Thanks for being one of the first people to vote. Results will be available soon. Check for results
Manchester City

2,231 votes
Total Responses: 11,061
Not scientifically valid. Results are updated every minute.