Manchester United, the universal football club
Sir Alex's Ferguson's team have outgrown the city that gave them their name.
As Manchester United announce a share sale on the New York stock exchange, Leyton Orient chief executive Matt Porter explains that they now transcend the geographical ties that characterise almost every other club.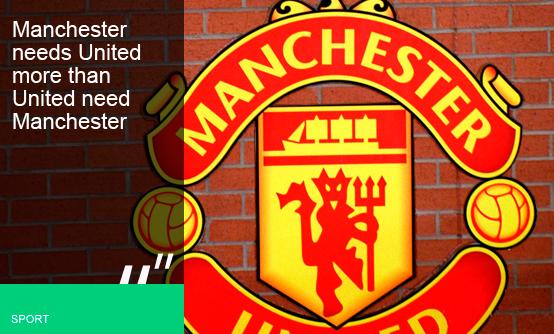 Over their Florida orange juice and oversized cinnamon pastries this morning, the great and good of Wall Street were digesting a 280-page prospectus which had been issued to them extolling the virtues of investment in world football's biggest brand.
Over their cup of tea and bacon sarnie this morning, the great and good of Manchester's Deansgate were digesting on the front page of the city's newspaper a plea from the Stone Roses to help locate a missing local man.
Manchester United's announcement that they were to float on the New York stock exchange may barely have caused a ripple of interest in their home city, as the disconnect between a giant global organisation and its local community widens.
"No other English club has been as successful in creating a brand of its own"
Manchester United is more than just a football club. It's a commercial animal, a colossus both on and off the pitch, with more supporters than anyone else and more trophies than all but a few. Oh yeah, and a $600m debt.
Their $100m target investment will be reached even if none of the New York high-flyers read past page four as a line of banks have offered to underwrite the share issue, guaranteeing the Glazer family the ability to wipe out around 15% of what their club owes quicker than you can say Paul Pogba isn't welcome around Fergie's for a barbeque.
So on the face of it, I'm not sure there's much anyone can argue with. OK the investment won't be as large as the billion dollar flotation that was mooted for Singapore, but it's not a bad way of getting a chunk of money in without ceding any real powers, which the deal has been structured to allow.
How much does the move impact on those fans who are renewing their season tickets, waiting patiently for the new season's range of merchandise to hit the shelves and see who they will bring in to boost their title challenge?
It would be a different story of course at the likes of Barcelona or Real Madrid, where regional identity is everything and unlimited lines of credit from the banks mean there's no need to worry about casting your net far and wide for investment.
And no other English club has been as successful in creating a brand of its own, so independent from the town that created it, and able to be shared and understood in any corner of the world.
"Just as Vauxhall did decades ago, the Old Trafford-based business has grown to overshadow its birthplace"
For United, this latest move represents a step further across football's final frontier stateside.
It wasn't long ago that the Premier League were talking about their infamous '39th game' and as the biggest clubs move towards global franchises a la the major American sporting clubs, is it beyond the realms of possibility to think that the Glazers and United could decide one way to satisfy the demands of their growing legions of overseas fans and commercial partners could be to look to stage 'home' matches in these growing territories?
Just as Vauxhall did decades ago, the Old Trafford-based business has grown to overshadow its birthplace: Manchester needs United more than United need Manchester and Red Devils fans, wherever they are, can be proud.
Matt Porter is chief executive of Leyton Orient, tell him what you think on Twitter @mattporter_lofc
DO YOU THINK MANCHESTER UNITED WILL SUFFER FROM LOSING THEIR CONNECTION WITH THE CITY IN WHICH THEY PLAY. LEAVE YOUR COMMENTS BELOW OR SHARE THEM ON TWITTER USING THE HASHTAG #SOCIALVOICES
Welcome to #socialvoices. This is the home of sharp writing, opinion and social debate on MSN. Jump into the comments, tweet us with the hashtag. Join in.
No tweets available. Please try again later
Who will finish highest in the Premier League?
Thanks for being one of the first people to vote. Results will be available soon. Check for results
Manchester United

639 votes
Total Responses: 3,931
Not scientifically valid. Results are updated every minute.